What's for breakfast? This question is asked at home almost every morning. Breakfast is the most important meal of the day because it fuels the body with much-needed nutrients. It is imperative to kick-start your body with a wholesome breakfast. But just for the sake to relieve the hunger, one must not stuff anything on the go.
Thanks to the numerous options, we can eat quick, yummy, and healthy breakfast at the same time. Order your favourite breakfast cuisines online with Veg Platter.For a healthy breakfast, you don't have to turn towards the western breakfast menu. Here we have discussed some of the quick Desi breakfast ideas with you. Let's have a look:-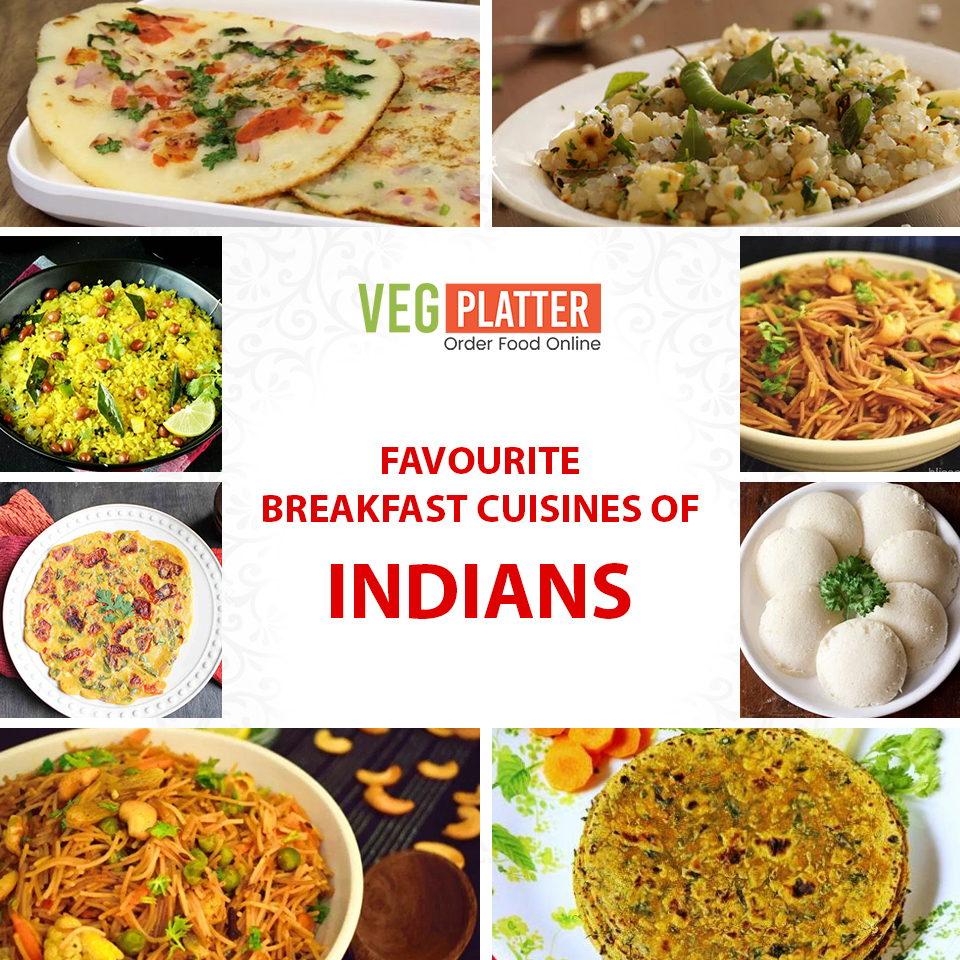 Suji Uttapam:
Suji is light and easy to digest, which makes it one of the healthiest grains. And uttapam is a type of dosa which is crisp and thicker, with vegetables. This is a healthy traditional South Indian breakfast with a twist. Veggies make it more colourful and healthy at the same time.
Sabudana Khichadi:
Sabudana is an ideal breakfast to calm your hunger pangs down with minimal calories. This typical fasting snack is perfect for a healthy diet. And give your early morning a great push. It blended well with any spices or sweet.
Poha:
A popular Maharashtrian dish made from flattened rice, Poha is loved by all. This easy to make dish is perfect for breakfast. No poha is complete without a variety of toppings. Tomatoes, Carrots, Peanuts- the possibilities are endless.
Namkeen Seviyan:
If you are bored with the same meethi seviyan, try namkeen seviyan this time. This stir-fry noodles with sauteed vegetables is a healthy choice for breakfast. The perfect comfort food on a cool morning.
Vegetable Chilla:
A savoury gram flour pancakes with added veggies will be a good breakfast for busy weekdays. Good protein from besan flour makes this dish super healthy. Try this besan ka chilla incorporated with lots of veggies.
Idli:
Idli is a type of rice cake, popular as a breakfast food in Southern India. Now preferred by people all over the world. Garnished with veggies, makes it a safe, tasty, and wholesome breakfast.
Thepla:
This is a must-try for any Indian food lover. Beautiful colour and deep flavour profile make thepla a delicious breakfast option. Like Dhokla, Thepla is also the heart of Gujrat. Have it with achaar, and you are good to go!

Enjoy all the cuisines perfect for breakfast by ordering them online from VegPlatter and get discounts. Download the app from here.
We found the following Restaurants.