India is a diversified country with different languages, cuisines and cultures. Due to this reason, there are many kinds of fried delicacies that are famous all over the country. Snacks and Cuisines change in India after every 100 KM. So, what is your favourite fried snack? What is that one greasy guilty pleasure that makes it hard for you to resist? Today, we have decided to enumerate India's 6 favourite vegetarian fried snacks. Order your favourite Vegetarian cuisines online with Veg Platter. Let's see them one by one: -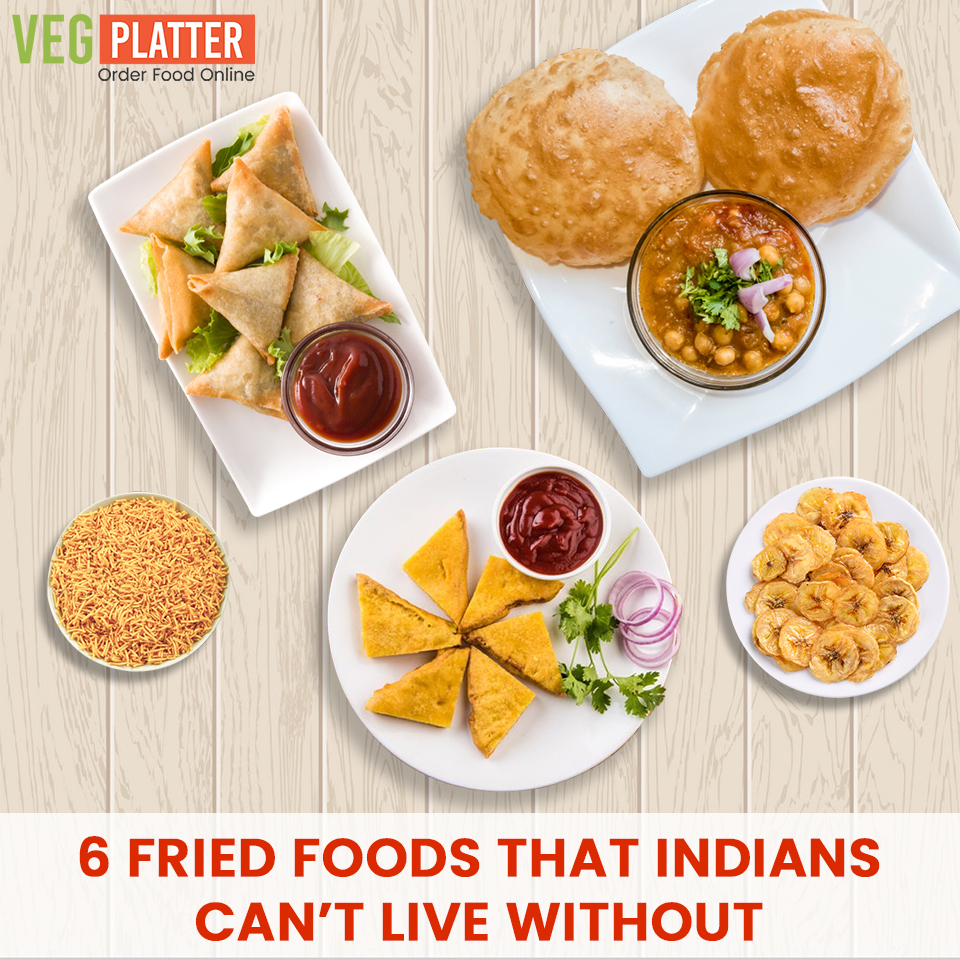 CHHOLE BHATURE
Chhole Bhature might be the second most common thing among North Indians after "Burrraahh!!!". Chhole is a spicy curry made from chickpeas whereas Bhatura is a fried Indian bread made from Maida. This dish is originated in Punjab. The gravy of Chhole Bhature also contains tomatoes, onions, garlic, and garam masala.
SAMOSA
Another favourite snack of North Indians, Samosas were introduced in India in the 13th and 14th centuries by Central Asia traders. A simple Samosa has a covering of Maida or Atta and contains fillings of mashed potatoes, chilies, onions, and peas. They are made conical shaped and deep-fried till turned into golden brown. Samosa is known as Chamucas in South India and Luxmi in Hyderabad.
BREAD PAKORA
Bread Pakoras are potato sandwiches dipped in gram flour batter and fried till golden brown. Some people also consider having it without any potato fillings.
FRIED MOMOS
Over the past few years, we have seen a rise in the popularity of Momos. Fried momos are taking place in the hearts of many north Indian foodies. Fried momos are normally served with red chutney and mayonnaise.
NAMKEEN (BHUJIA)
Namkeen (Bhujia) is prepared with the dough of Moth Dal and Besan along with various spices. The dough is then deep-fried in Vegetable oil. Namkeen (Bhujia) is almost 140 years old and one of the loved snacks by Indians with Tea as well as people around the globe.
BANANA CHIPS
Banana chips were originated in Kerala and Tamil Nadu, but now they are the favourite lip-smacking snacks of most Indians. The slices of banana first get deep-fried and then covered in sugar or honey as per the requirements of the individual. Some bakery shops even serve it with Choco syrup. They are also a good source of many vital vitamins and minerals.
This was our list of favourite fried foods of Indians. You can order them all online from Veg Platter and get discounts. Download the app from here.
We found the following Restaurants.