Conventionally, Diwali is the festival of lights, but for foodies it is the festival of sweets. It embarks the beginning of the new financial year and also signifies the victory of good over evil. Diwali is one of the most awaited festivals in India, and it is the time when all the family and friends gather to have a good time.
Order Vegetarian food online with VegPlatter.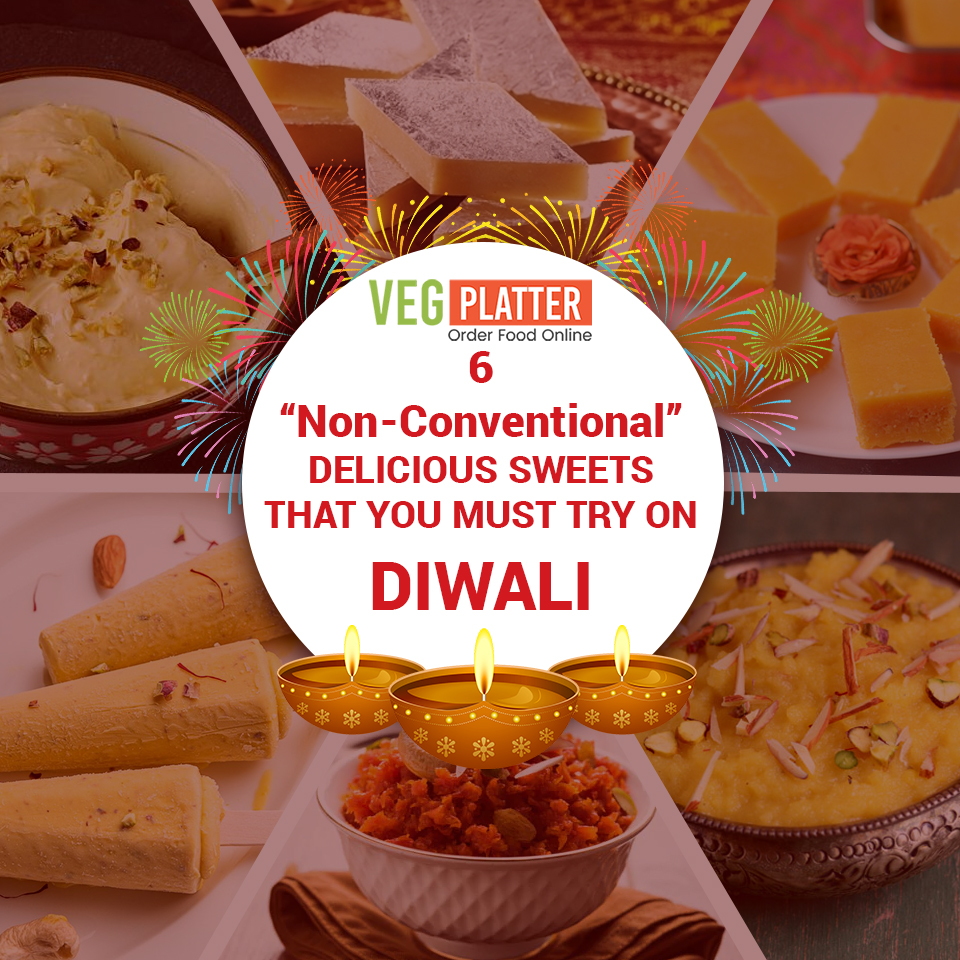 2020 turns out to be a bit unexpected due to Covid-19 Pandemic, but we believe nothing can come between our happy moments on Diwali. The gatherings might be smaller than the usual ones still we can make this Diwali special by enumerating some "non-conventional" desserts. Hence, we decided to enumerate 7 delicious sweets that you must try on the Diwali of 2020. Let's see them one by one: -
SHRIKHAND
Shrikhand is a traditional Indian sweet made with hung curd, cardamom, and saffron. It is very famous in states like Gujarat and Maharashtra. It can also be topped with different nuts that make it tastier. You can order it online from VegPlatter and also make it at home.
MYSORE PAK
Mysore Pak is an Indian sweet prepared in ghee, sugar, and gram flour. Traditionally, Mysore Pak is served at weddings and other festivals of Southern India. Mysore Pak is cut into pieces and it has a shelf life of up to 30 days. As very less water is used in its preparation, it stays fresh and cool.
KAJU KATLI
Kaju Katli, also known as 'Cashew Slice', is prepared with Cashew paste, ghee, milk, and sugar. The finished product is usually white or yellow. It is especially very famous in the northern parts of the country.
GAJAR KA HALWA
Also known as Gajar Pak, Gajar Ka Halwa is prepared with grated carrots, cashew nuts, sugar, and clarified butter(ghee). This dessert is popular among all ages. If you are tired of eating Gulab Jamuns or Rasgullas on Diwali, you can always go for Gajar Ka Halwa.
RAJASTHANI MOONG DAL HALWA
Rajasthani Moong Dal Halwa is a classic recipe for winter, as it keeps the body warm during the winter months. You can order them from your nearby food courts, make it at home with very basic ingredients like Moong Dal, Sugar, Ghee, Nuts, and Milk.
KULFI
Craving for something frozen? Try Kulfi, which you can order online from VegPlatter. Due to its popularity, it is also known as Traditional Indian Kulfi. You can also make it at home as it only requires cream, milk, nuts, and sugar.
This was our list of 6 different sugary delicacies that deserve your attention. Desserts add so much enthusiasm to this festival of lights, and the best part is that they are all vegetarian. You can order them all online from VegPlatter & get attractive discounts. Only Pick Up/ Take Away is available, and there's no delivery service. Download the app www.vegplatter.in/app
We found the following Restaurants.