Dussehra is coming, and we all know that it symbolizes the victory of good over evil. There are many Indian Desserts that people love to savour at this festival. Though due to the Covid-19 pandemic, we might not go out and enjoy these sweetmeats like we used to, but we can still enjoy them by ordering them online on VegPlatter. Hence, let's see those famous Indian Desserts that you must enjoy on Dussehra.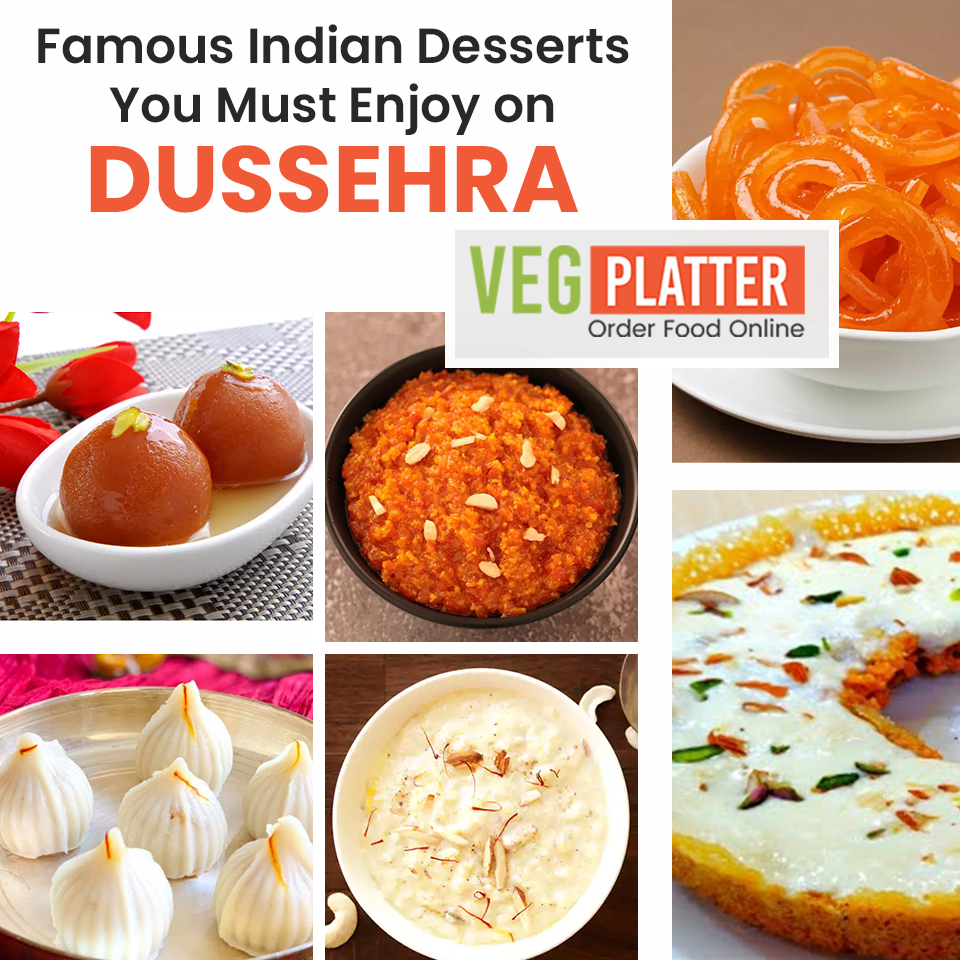 Let's see them one by one: -
GULAB JAMUN
Gulab Jamun is made with Khoya and fried till turned golden brown. They are finally dipped in sugar syrup which makes it juicy and tasty. You can make them at home, or order them from mishthaan shops near you.
GAJAR KAA HALWA
You must have eaten Gajar Kaa Halwa for at least once in your life. It is loved by folks of all ages and is also very easy to make. Carrots are first grated and then cooked in a container with nuts like cashews & almonds, cardamom, and condensed milk.
Order your favourite cuisines online from VegPlatter.
MODAK
Time to go to the southern side of the country and try Modak. Modak is simply sweet flour dumplings filled with jaggery, nutmeg, and coconut.
KAJU KATLI
Who can resist to Kaju Katli? Kaju Katli is made with milk and cashew nuts with a thin silver layering on the top. Kaju Katli is usually exchanged on festive occasions.
PHIRNI
It is another type of milk pudding famous in India during festive seasons especially Dussehra and Diwali.
MALAI GHEWAR
Ghewar is a disc-shaped dessert originated from Rajasthan and made from desi ghee, milk, saffron, and maida. On the top of Ghewar, there are many creamy layering which makes it even tastier.
JALEBI
We have to include Jalebis into our list if we are talking about Desserts and Dussehra. To prepare Jalebi, the deep-fried Maida batter is first twisted in circular shapes and then put into a sugary syrup solution. Saffron and Cardamoms are added to it to give colour and that sharp smell. There are various types of Jalebis famous in all over the country due to cultural diversity in India.
There are also other famous types of Jalebis in India, like Paneer Jalebi, Imarti, Jaleba, etc.
Your mouth must be watering by now. Enjoy all the delicacies as discussed above by ordering them online from VegPlatter and get discounts. Only Pick Up/ Take Away is available, and there's no delivery service. Download the app www.vegplatter.in/app
We found the following Restaurants.