Mumbai is the city where dreams come true and it is the birthplace of many unique dishes and snacks that are famous all over the country. The influx of immigrants in the 20th Century brought culinary richness to the city of Bollywood. Most snacks that we are going to discuss today are carbohydrates rich depicting the work-ethic of Mumbai Walas. The food culture of Mumbai comprises of Goa, Gujarat, South Indian, Parsi, and Coastal South India. If you are a foodie then you are going to fall in love with the snacks discussed below. Order your favourite snacks online with VegPlatter and get attractive discounts.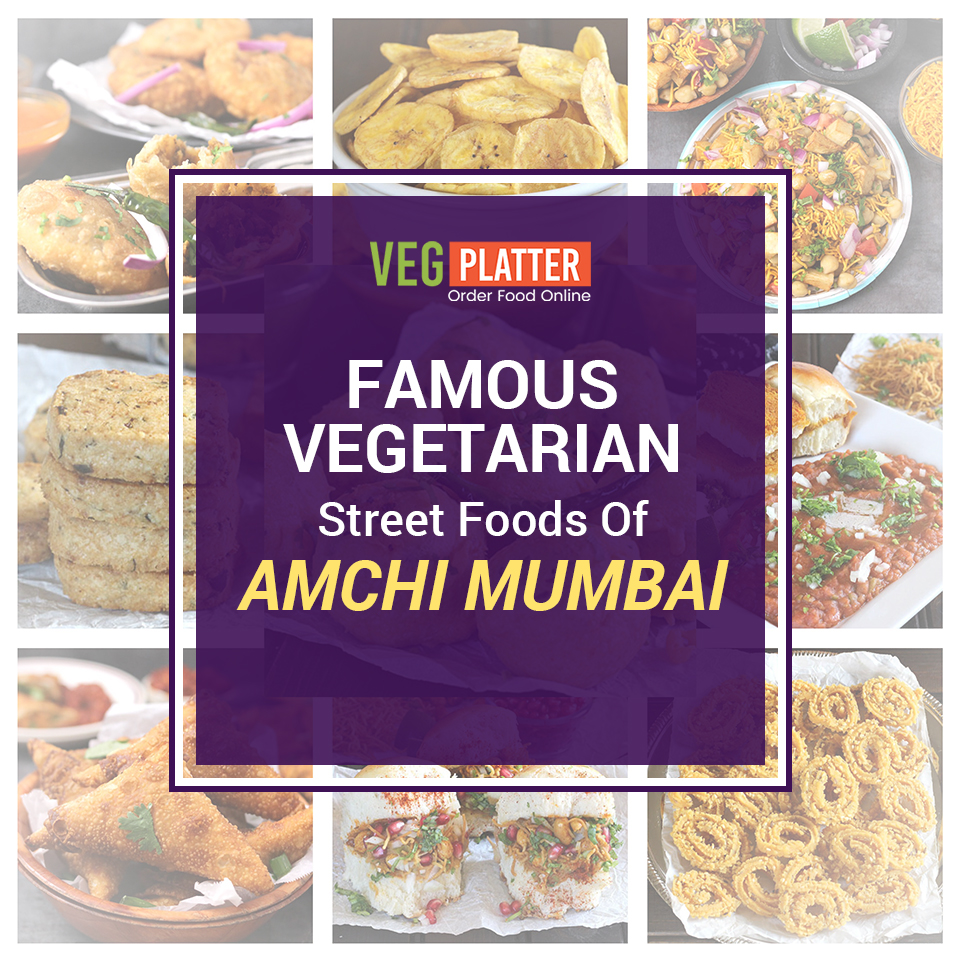 Moreover, these snacks would not lay so much pressure on your pockets.
VADA-PAV
Vada-Pav is the first snack that comes to our minds whenever we hear of Mumbai. It is every Mumbaikar's on-the-go snack and consists of boiled potato mashed with coriander, garlic, and ginger. The proportion may vary according to different recipes. They are dipped into gram flour and deep-fried till turned golden. These balls are then stuffed into a PAV with the layer of green chutney on both sides.
THE BOMBAY SANDWICH
You can enjoy Bombay sandwiches while you are on the go. It consists of cucumbers, boiled potatoes, beetroot, and mint chutney between the two slices of bread. They are usually cut into triangles so that you can handle them well. Frankly, there's no quite sandwich like this in the whole world.
BHELPURI
Bhelpuri is the most commonly sold "chaat" in Mumbai. Bhelpuri is a Marathi chaat consists of puffed rice, onions, tomatoes, coriander, and tamarind chutney. You can find the stalls of Bhelpuri almost everywhere in Mumbai.
PAV BHAAJI
Pav-Bhaaji is mashed mixed vegetables cooked in spices and loads of butter. The Bhaaji is eaten with Pav that is also fried in butter. Pav Bhaji can be enjoyed with Onions and now this dish is famous in all over India because of Mumbai.
BATATA VADA
Batata Vada is a famous Mumbai street food. It is also known as "Aloo Bonda". It consists of potato mash patty with fried gram flour. It is usually served with Green Chutney and fried green chilies.
PANIPURI
If you are traveling in Mumbai, you ought to try Panipuri for at least once. In northern India, Panipuri is known as "Golgappe". The crispy suji or atta balls filled with tangy-sweet water make you fall in love with striking flavours.
You can enjoy all the delicacies by ordering them from VegPlatter and get discounts up to 20 percent. As of now only Pick Up/ Take Away is available. So, order food online with VegPlatter. Download the app www.vegplatter.in/app
We found the following Restaurants.