After scorching heat of summer for almost a quarter of 2020, monsoon is finally here. The aroma of rainwater fills everyone with a vibrant energy that's hard to describe in words. It seems like everything around gets a new life including animals, trees, and buildings. Suddenly, you start to feel both exhilarated and serene as well.
Adding to this excitement, we have a list of monsoon snacks that Indian love munching down while looking at rain out of the window.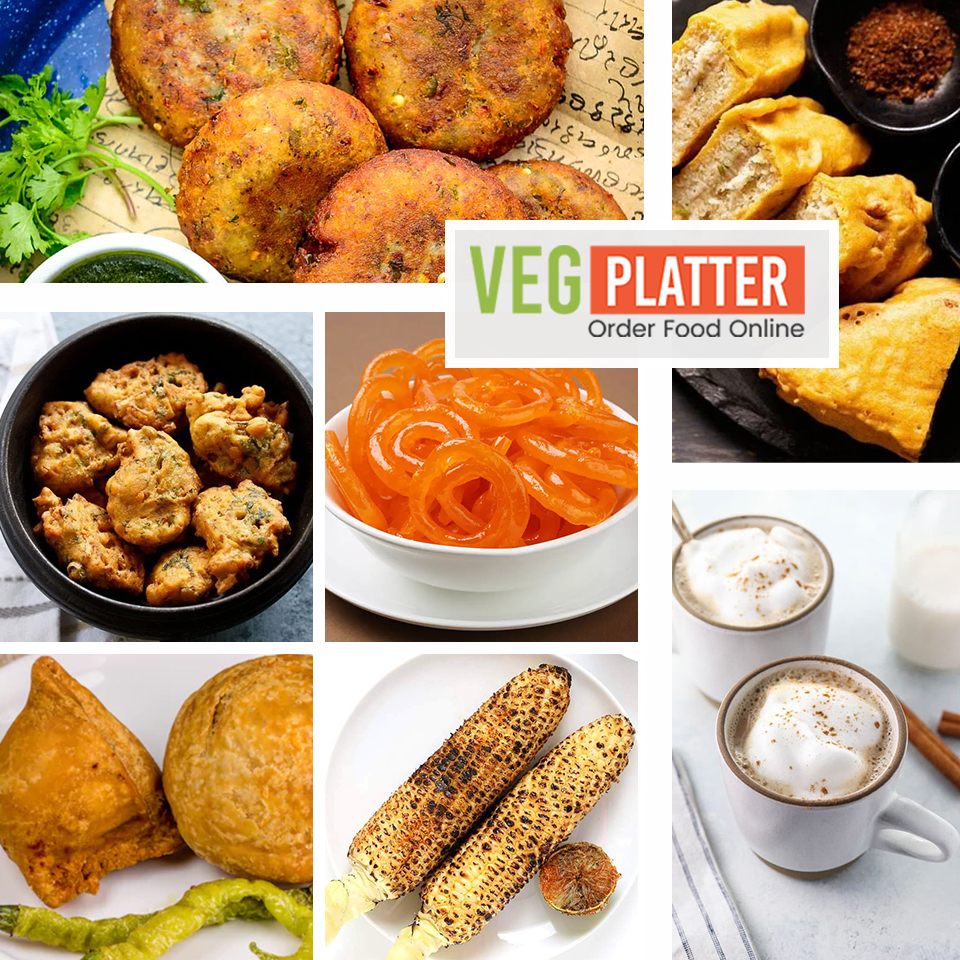 Order tasty food online from VegPlatter and get discounts.
Let's see them one by one: -
Veg Pakoras
Pakoras are fried snacks ("fritters") originated in India, and also known as "Bhajiyas" in southern parts of the country. There are Pakoras of Spinach, Onion, Potatoes, Paneer, and Chilli Pepper. Pakoras are prepared by dipping gram flour coated veggies into the hot oil. They are served with Green Chutney which is prepared from tamarind and mint.
People also like eating them with their favourite hot drinks such as Chai/Coffee.
Hot Jalebi
Jalebi is an Arab & Indian sweet snack popular all over India, especially in the rainy and cold weathers. Jalebis are prepared by deep frying refined flour (maida) batter in circular shapes and then dipping them into a sweet sugary syrup for few minutes. They are normally served with curd or "rabri". Individuals of all ages love savouring jalebis in monsoon.
Roasted Bhutta
If you go out on roads after rain showers in Northern India, you can see a roadside vendor making Roasted Charcoal Corn or "Bhutta". "Bhuttas" are served with lemon and spices, which makes the taste of "Bhutta" even more amazing.
Bread Pakora
Seriously, Bread Pakora deserves its mention in this list, and not mixed with other Veg Pakoras. The combination of Bread Pakora & Chai is loved by everyone in office parties during monsoon.
Samosa & Kachori
Samosa & Kachori are also famous during the rainy season because of their crunchy outsides and tasty stuffing insides. Many types of Samosas and Kachoris vary according to regions.
Hot Coffee/Chai
They are not exactly snacks; however, Chai/Coffee is a partner of many of them as stated above. Chai-Pakora is the number one pick for our grandparents and older generation during the rainy season. Sometimes, it can only be tea while enjoying monsoon out of the window.
This was our list of favourite monsoon snacks in India during monsoon. If you've read it so far, then you must be craving for some. You can order your favourite snacks from VegPlatter and get discounts. Due to Covid-19 pandemic, when you order, there will be no delivery service and you have to pick up your food on your own. Go to www.vegplatter.in to know more.
We found the following Restaurants.