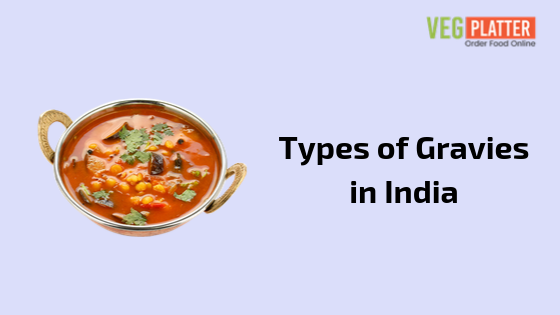 Have you ever wondered what's common between Shahi Paneer, Dum Aaloo, and Malai kofta? Don't know? Ready to give up? It's the GRAVY!! Without gravy, Shahi Paneer can't be royal, Dum Aaloo can't be powerful, and Malai kofta can't be creamy. They will then be just bland veggies with zero yumminess left in them. Gravy doesn't compliment them; infact they complement gravy. It is the soul of many Indian cuisines. We Indians love eating our favorite creamy curry dish with Naan bread or wheat Rotis. There are hundreds of gravy dishes in India, but do you know how many types of gravies are there? It turned out there are many. So, today, we are enumerating different types of gravies that we all have eaten for at least once. Feeling hungry, don't worry, now you can order food online only on VegPlatter. Order now, and get great discounts.
Here's our list of top gravies in India: -
RED GRAVY
The red gravy gets its dominant color from tomato puree and red chili powder. Shahi Paneer, Matar Paneer, and Cheez Butter Masala are very well known red gravy dishes in India.
HARIYALI GRAVY
You don't need to be a genius to guess that Hariyali gravy is green in color. And, do you know what the central ingredient is? It's Popeye's favourite "spinach." Some of India's favorite green puree dishes are Palak Paneer, Corn Palak, and Saag. These cuisines go well with Rotis, nans, parathas, and phulkas. They can also accompany rice and pulao. 
WHITE GRAVY
We all know, white is the color of peace. But white gravy is all about creaminess and deliciousness. It's marvelous in taste and creamy in texture. It gets its color because of added mawa, cashew paste, and curd. Bet, you will forget your 'white sauce pasta' after trying it. Some famous white gravy dishes are Mughlai shahi paneer and Kaju curry.
Mouth-watering? Don't worry, order food online from Vegplatter at the comfort of sitting on the couch. Get great discounts on your first order.
YELLOW GRAVY
Yellow gravy is white gravy with added turmeric and saffron. It is very popular in Rajasthan and is sour in taste. The mixture of curd, gram flour,  turmeric powder is added in the puree of tomato and onion. Malai Kofta is a famous Yellow gravy dish in northern India. Try it sometime; mark my words, you will lick your fingers.
BROWN GRAVY
The brown gravy gets its color from Garam masala, red chili powder, and blended tomato puree. Mixed Vegetable curries and Makhni dal are all tastiest examples of brown gravy.
This was our list of most loved gravies in India. There's no doubt that India has a diversity of colorful gravies. By the way, what's your favorite gravy of all?
Feel lazy to go out and grab a bite? We can relate to this feeling. Now you can order food online only on VegPlatter, and have any vegetarian cuisine at the comfort sitting at your couches. Download the app www.vegplatter.in/app.
We found the following Restaurants.