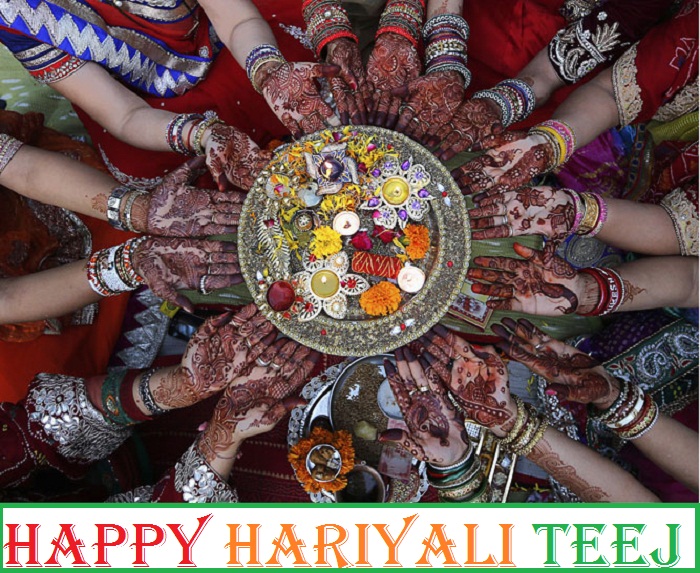 The lush season of saawan is here again and so is the onset of Indian Festivities. The entire month of sawan is devoted to the worship of the holy union of Lord Shiva and Goddess Parvati. Teej is a festival where women worship the divine coming together of the two deities for a happy married life. Teej marks the beginning of the pompous festivals to follow. It is a festival of great importance for Hindu women, especially in North India who fast for a day for the well-being of their husband. Women adorn beautiful sarees, wear green bangles, get ready like a suhagan (bride) and celebrate the festival with full zeal. They gather together, sing folk songs, dance their heart out and most importantly, they sit on swings.
But what interests us the most is the lip-smacking food eaten on this day. Lavish delicious food being served on any Indian festival is mandatory. Then how can Teej be left behind? With Teej, come along an array of finger licking foods. This Teej, Order food online on Veg Platter. We now will mention some of the best Teej foods, check out:
1. Ghevar
Teej and ghevar are synonymous. One cannot imagine Teej without ghevar. For those who don't know what ghevar is, it is a milk based traditional Rajasthani and Haryanvi dessert which is round in shape and has a honeycomb like texture. It comes in two variants, with and without khoya (evaporated milk). As it is a seasonal dessert which is only available in sawan, it is prepared in huge numbers during this season. Parents gifting ghevar to their married daughters on the occasion of Teej is a ritual. You must try ghevar in monsoon, I am sure you will love it.
2. Gujiya
Though gujiya is largely associated with the festival of Holi, it is also commonly prepared on Teej. Gujiyas are fried dough dumplings filled with sweet khoya and dry-fruit filling coated with syrup. Gujiyas are relished by all Indians and stopping on just one is impossible. Order online.
3. Mathri
Mathri is savoury Indian fried snack which is found in every Indian household. Usually women open their day long Teej fast with a bite of mathri. Mathri tastes delish with mango pickle and a hot cup of Indian chai.
4. Anarse ki Goli
This is not a very famous dessert, but trust me, one bite of it and you will be blown away. Anarse ki goli is a special Teej dessert which is made by maida or rice flour and sugar. They are made into small ball sized bites and coated with sesame seeds. This one is a must try on Teej.
5. Kheer
Any festival In India is incomplete without the preparation of kheer. Kheer is loved by all alike, from children to elderly and is considered a sacred dessert which is also used as an offering to gods to take their blessings. Sawan calls for chilled kheer with lots of chopped dry-fruits. It is prepared in large amounts on Teej as people lick the bowl clean and can't just stop on only one serving. Serve it as it is or with malpuas, you are fall in love with it anyway.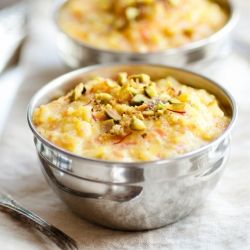 6. Malpua
Just by mentioning its name, I am drooling like a hungry baby. Often regarded as India's oldest dessert, Malpua is not just a dessert, it is a feeling, a heritage. It is a maida batter deep fried and soaked in syrup. It is an ultimate comfort food so how can this be missed on Teej. One can have malpua on its own or with kheer or rabri.
7. Samosa
What is a Teej without some hot freshly fried samosas? There is no joy even close to eating samosas with your nears and dears, whole you laugh, talk and make memories. And the other best thing about samosas is the tangy tamarind chutney which you can lick for eternity. Order online.
8. Mirchi ka pakoda
After too much sweetness, one wants some spice! And in this case, extra spice. Mirchi ka pakoda are often prepared on teej. A big green mirchi is stuffed with spicy boiled potato mixture which is later coated in bean batter and deep fried. It is served with spicy and tangy pudina chutney which surely levels up the taste game.
9. Gatte ki sabji
It is a staple dish of Rajasthan which is specially prepared on the occasion of Teej. It is a savoury dish made with besan dumplings cooked in a rich and spicy yogurt gravy. Gatte ki sabji tastes delish with hot jeera rice, bit you can team It up with rotis too if you want.
10. Pyaaz ki Kachodi
Pyaaz ki kachodis are my personal favourite. Any occasion is made more enjoyable with scrumptious pyaaz ki kachodis with sweet and tangy tamarind chutney. On Teej, it is one of the most enjoyed food. It is also a grab and go which is light on weight and high on taste. Order online.
Can't wait for Teej already? So do I! order food online on Veg Platter and relish these foods to make your Teej even more better. Download the app www.vegplatter.in/app
We found the following Restaurants.