DOSA! This word is good enough to fill my senses with the ecstasy. God bless the great soul who invented this culinary treasure. Dosa is a staple of south India and is loved all across India and also abroad.  A crispy flaky pancake made with rice ad lentil flour, dosa is usually eaten in breakfast, but with its increased fondness all over, it is now enjoyed as a famous fast and is easily available during any time of the day. Order veg food online on veg platter and enjoy your food hot and fresh.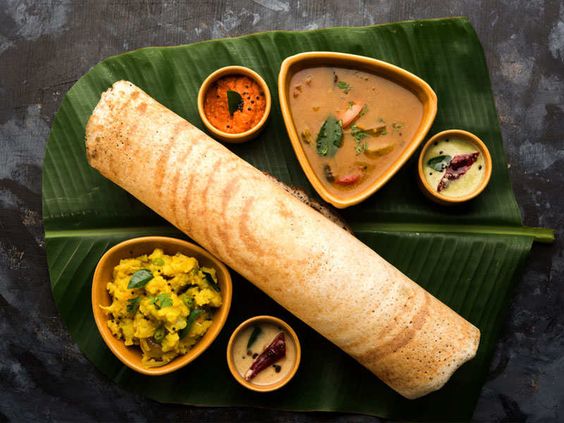 Traditionally, dosa is eaten without any filling with podi (gunpowder) and sambar. However, with the love of improvisation and liberty, dosa now comes in numerous types, some of which are really fancy and exotic. We have picked our favorite for you, check out:
1.Masala Dosa
This is the king of al dosas. Especially loved by the north Indians, Masala dosa has a filling of potato sabji which is utterly buttery delicious. This dosa sells like hot cakes in restaurants. Easy to get, this is a must try for all dosa lovers.
2.Rava Dosa
Rava Dosa, unlike the usual dosas which are made with rice flour, rava dosa is made with suji (semolina). You can either have it plain or with a filling of potato or any other stuffing of your choice. It is usually savoured with sambhar and coconut chutney.
3.Ghee Roast Dosa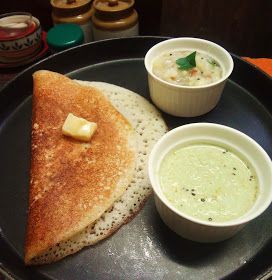 This is a dosa diet freaks stay completely away from. A simple crispy dosa drizzled with ghee making it a dream come true for foodies.  It is especially enjoyed with podi (gunpowder). This is one of the simplest dosa to prepare and delicious dosa to eat. Order food online on veg platter and enjoy your food hot and fresh.
4.Paper Dosa
Paper dosa is a very thin (paper thin) and ultra-crunchy dosa form, without any masala filling preparation. It is the longest form of dosa that can serve many people at a time.  One of the most loved breakfast recipes, paper dosa is usually eaten with sambar or added spiced potato curry.
5.Schezwan Dosa
This is the the ultimate fusion of Indian and Chinese and is a blast of flavors in your mouth. Though it might sound a weird combination, but trust me, one bite of this dosa, and you will never look back at the dosa the same way again. What is there to not love about this combo? It is dosa and schezwan together! Ab kahi khushi se meri aankhein na bhar aaen!
6.Cheese Dosa
Veggie Cheese Dosa is a combination of a variety of healthy vegetables and plenty of cheese. The simple dosa is just stuffed with a mixture of vegetables and turned into a delicious vegetarian cheese dosa.
Feeling south Indian yet? Order delicious dosa only on Veg Platter online and enjoy it hot and fresh. Order food online on Veg Platter and relish delicious food in the comfort of your home. Download the app www.vegplatter.in/app
We found the following Restaurants.