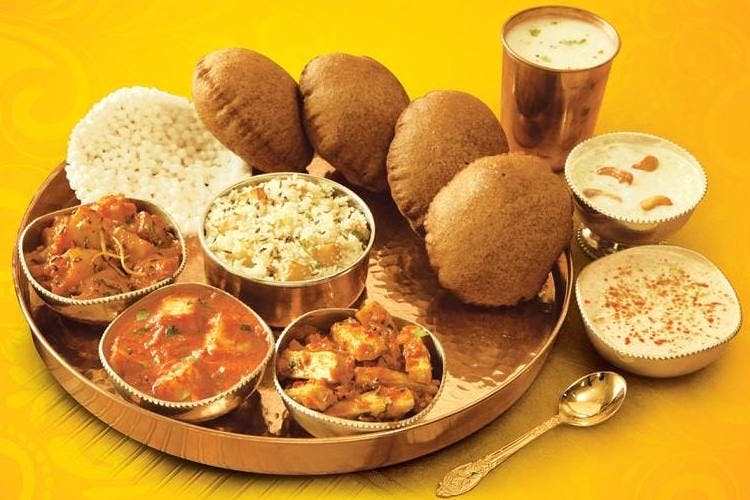 Navratri 2019 is here, and you can see at a glance how much we are eager to welcome the celebration season. The word "Navratri" is translated into "nine nights" in Sanskrit. These nine days were dedicated to the goddess Durga, who came to her family of loving devotees to find escape from evil. On these nine auspicious days, the devotees seek blessings and pray to the goddess Durga in the nine forms of Navdurga. The common practice of maintaining ritual fasting is also an important part of the Navratri celebrations. People do this to please their deity. During the fasting period, devotees avoid certain foods such as non-vegetarians, eggs, common salt and alcohol. It is recommended to switch to the satvik diet and only a limited number of ingredients can be used to make vrat ka khana. These Navratri special foods may include sabudana, sendha namak, kuttu ka atta, singhare ka atta and certain vegetables. However, this does not mean that you cannot experiment. You can use these limited ingredients to make Navratri food. Order veg food online on Veg Platter.
Here are some ideas for Navratri special foods.
1. Sabudana Khichdi
Sabudana contains premium starches and carbohydrates and acts as an instant energy booster during these fasting periods. Sabudana khichdi, is made from tapioca pearls in the southern part of the country and is the most popular during Navratri fasting. One of the most loved Vrat dishes, you can season with peanuts, fresh parsley and mild spices.
2. Sabudana Kheer
Delicious holiday desserts made with sabudana are vrat classic. The richly flavored cardamom and saffron, paired with some thick nuts, is definitely a treat. The sabudana kheer recipe here is very simple and quick, and it takes only 30 minutes to complete the soaked sabudana, usually in the fasting season like Navratri.
3. Kuttu ki poori
These puris made with Kuttu ka Atta are the best accessory of Aloo Bhaji. These pooris can also be tasted with a bowl of frozen curd. As everyone knows, Kuttu will boost your energy level. It's not grain, so it's one of the favorite vrat ingredients that are commonly used.
4. Roasted Makhana
Makhanas or fox nuts are also on top of the popular Navratri specialty food table. You can add them to your kheer or make Makhane ki Sabzi, but the most popular version of these bite-sized seeds is if they are just baked Makhanas or Phool Makhana and are rubbed with a little salt and pepper.
5. Aaloo Kadi
Here is a dish that we love all year round, but what makes it a Navratri special meal is its main ingredient - the potato and its preparation with mild spices. While fasting for Navratri, supporters avoid eating legumes and lentils, while vegetables such as potatoes, sweet potatoes, Arbi and Suran are acceptable. The soothing aromas of this beautiful curry with light spices will make you lick your fingers. Order veg food online only on Veg Platter.
6. Vrat Chawal
If you observe the Navratri fasting, you should know that normal rice is not allowed for consumption during the Vrat. Many devotees use Varat Ke Chawal or Samai Ke Chawal (Barnyard Millet) for their quick preparation. They use this Navratri special food to make a healthy pulao that tastes divine with Aloo Kadhi, Kaddu Ki Sabzi or Lauki Ki Sabzi.
7. Arbi ki sabzi
It brings been a big change from the common green leafy vegetables we prepared for lunch! Arbi or 'Colocasia' is a very versatile summer vegetable. This Navratri specialty food is suitable for all Puris and Rotis. It is made from mild spices and is delicious.
8. Shakarkand chaat
During the Navratri period, the fruit chaat is a great hit, but have you tried shakarkandi chaat? Yes, you will find the same chatpata chaat on the street. Made with cooked and peeled sweet potatoes, plus lemon, rock salt and chaat masala, shakarkandi chaat is one of the most popular Navratri specialties.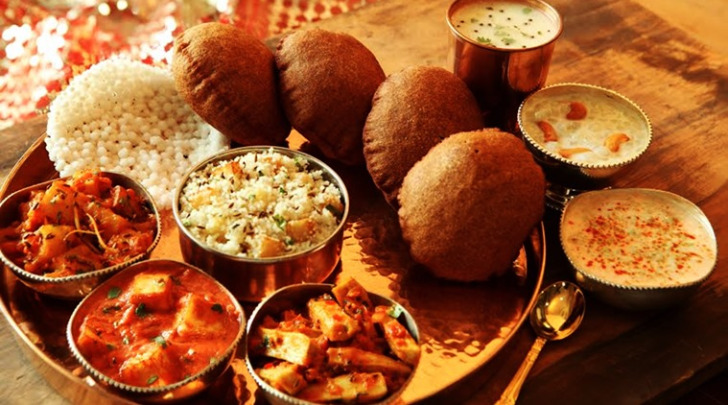 Have we missed your favorite Navratri specialty food or recipe? Please tell us. Happy Navratri 2019! Make your Navratri more delicious with Veg Platter. Order veg food online and get it home delivered. Download the app now: www.vegplatter.in/app .
We found the following Restaurants.