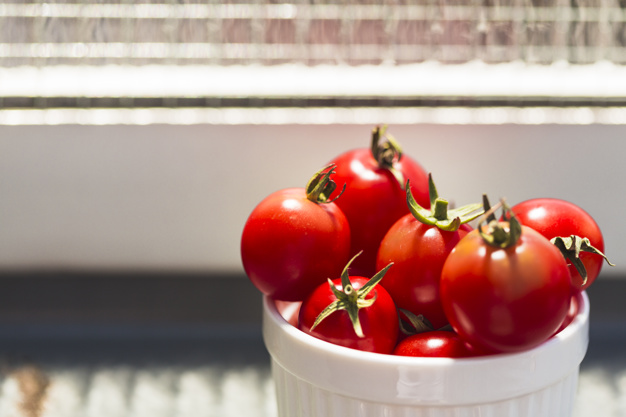 Rich red, juicy, full of natural beauty, often rich; we are talking about a broadly accepted food as a vegetable, but astonishingly it is a tomato fruit. There are many varieties of tomatoes in the world, and it is an important part of daily food in different cultures and countries all over the world. We have a wide range of incredible tomato recipes, including refreshing salads, spicy chutneys, comforting soups and delightful curries - no shortage of dishes to create. Raw or cooked, the nourishing tomatoes with excellent taste are very good for health.
Daily eating tomatoes will give you a nutritious dose of vitamins, minerals and essential nutrients such as magnesium, vitamin B6, C and A, iron, calcium, fibre and potassium. Every 100 grams of fruit has almost 20 calories and zero cholesterol and dietary fat. In addition to this, fresh tomatoes are also great sources of antioxidants and lycopene, which are great in slowing down the aging process, keeping aging-related skin deterioration at distance. Order online on veg platter and enjoy your food hot and fresh
Here is an amazing list of delectable dishes using tomato as the main ingredient, check out:
1.  Tomato Soup
What's better than the rich and spicy tomato soup to be consumed in a freezing winter evening? Rich in the taste of ripe tomatoes, it is a delicious way to keep the skin soft and pleasant looking. Order tomato soup online on Veg Platter.
2.  Shahi Paneer
Even if you are a non-vegetable fan, this dish is going to be one of your favorite dishes. Paneer (fresh cheese) and the sauce often made with a variety of spices in a tomato based gravy to give a rich look and name, hence the name "shahi paneer". Prepare this and immerse yourself in the delectable taste of the shahi paneer with any Indian bread. Order online shahi paneer on Veg Platter.
3.  Tomato Rice
The plain steamed rice cooked with tangy-spicy mixture of sautéed tomato is an easy to make main course that is a favorite for vegetarians and amounts to a delectable and content meal. Order online tomato rice on Veg Platter.
4.  Tomato Pasta
This is an Italian dish, no one in the world can say no. The cubes cut into tomatoes are mixed with cooked pasta and purely ecstatic dish is ready. The cherry on the cake is grated cheese and basil sprinkled on it. Order online tomato pasta on Veg Platter.
5.  Tomato Sauce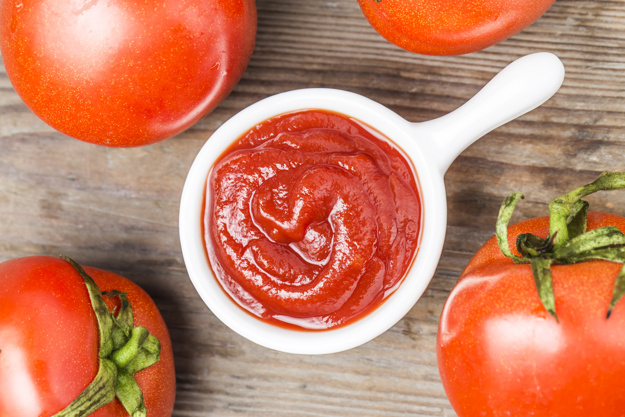 They say that hunger is the best sauce, but even if you are not hungry, there are seasonings that can make your food delicious, one of which is ketchup. This is a very simple recipe, making it at home is always better than buying it on the market. To do this, you need tomatoes, sugar, red pepper powder, garlic slices, ginger and salt.
6.  Pasta Arabiata
If you like to eat spicy meals, but want to try more continental and Italian dishes, then this is a must try. With pasta penne as a basic ingredient, covered with tomato sauce, topped with red pepper flakes, oregano and basil, the striking combination will definitely make your stomach full of yumminess. Order online pasta arabiata on Veg Platter.
7.  Tomato Rasam
Tomato Rasam is an Indian kin of tomato soup, perfect for pairing with hot white rice. It is also very easy to make as it takes only ten minutes to make this dish. Order online Rasam-Rice on Veg Platter. 8.  Stuffed Tomatoes
The gentle tomatoes are hollowed out, stuffed with delicious rice, chickpeas and spices, and roasted to glory. Good for health, filling and deliciousness. Order online on veg platter and enjoy your food hot and fresh. Order online stuffed tomatoes on Veg Platter.
9.  Cheese Tomato Sandwich
Delicious juicy tomatoes when paired with cheese slice with seasoning of salt pepper and some oregano and then placed between two slices of bread, a wonderful cheese tomato sandwich is created. It is a fabulous sandwich which is loved by kids and adults alike. It is extremely simple to make and hardly takes 2 minutes to prepare. Order online cheese tomato sandwich on Veg Platter.
10. Tomato Chutney
Tomato chutney is a chutney made with tomatoes as its main ingredient. Tomatoes can be diced, chopped or pulped. Other commonly used ingredients include onions, garlic, ginger, sugar, salt, vinegar and spices. It can be made using ripe red or green tomatoes. It can be eaten fresh after preparation, stored in a refrigerator, can be bottled or canned and stored for later use. The canned homemade tomato chutney can have an improved flavor due to the ingredients being mixed while the product is being stored.
While Pakistan cries for shortage of tomatoes in its terror-tory (pun intended), lets gobble on these amazing tomato dishes. Order online on Veg Platter and relish these foods in the comfort of your home. Download the app www.vegplatter.in/app
We found the following Restaurants.