"sometimes, being a brother is even better than being a superhero!"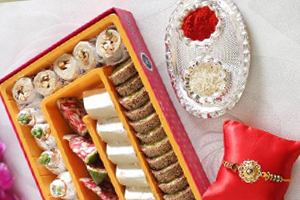 Siblings are the first and most valued friends that nature give to us. A sister and brother, may fight like cats and dogs, but they love each other like no one else can. This bond is really special which should always be treasured. The endless secrets that they share, saving each other in critical situations, teasing each other with their crush's name, stealing each other's foods to clothes, and crying their heart out when the sister weds off and leaves the house, these moments are priceless which no brother or sister would trade even for a fortune. They might not say it to each other, but always know that they have always got each other's back.
What better occasion is there to express your love for each other than Raksha-Bandhan!! The festival is a celebration of love between brothers and sisters where sisters tie rakhi on their brother's wrist and take a promise from them that they would always protect them. In return, the brother gifts his sister a present. Like any other Indian festival, Raksha-Bandhan is incomplete without sweets. What is a festival without sweets?? Make your Rakhsha-Bandhan sugary sweet with these delish desserts that you must get for your brother or sister: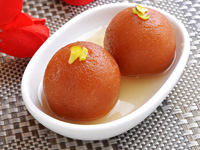 Gulab Jamun is undoubtedly the favorite dessert of Indians.The black and brown fried dough balls immersed in sugar syrup are delicious as heaven and the gooey soft melt in your mouth texture takes it a notch higher. Gulab Jamuns are love!! Do not forget to take them for your brother to make your Raksha-Bandhan a sweet affair!! 
There is some unsaid nostalgia in besan ke laddoo.  It is made by roasting besan (chickpea flour) in ghee andsugar and then making small balls when the mixture is ready. This dessert is usually made by grandmothers at home on special occasions. A bite into this sinful dessert will take you on a ride to childhood memory lane. Besan ke laddoo will surely add more charm to your Raksha-Bandhan fetival.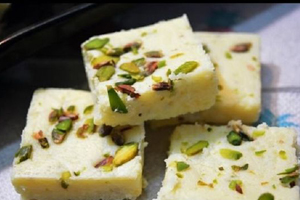 Burfi is a dessert that no Indian will say no to! It is made with condensed milk and other ingredients like almond, cashew, pistachio, cardamom and a lot more and later cut into tile shapes. Burfi comes in a variety of flavors to choose from depending upon your palate. Share this sweet with your brother/ sister and bring more sweetness in your relation.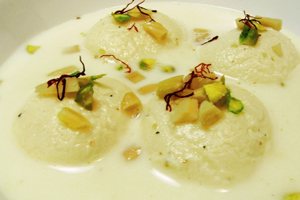 If there Is one dessert that can make even a crying person jump with joy, it is definitely Ras Malai!! The ivory soft cottage cheese dumplings soaked in sugar syrup and sweetened milk is an utter delight to the soul. If a person does not like this dessert, stay away from that person, there is something seriously wrong with him/her. Make your sibling cherish with joy with ras malai on this Raksha-Bandhan.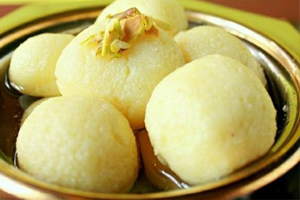 We can not thank enough Bengalis for giving us this gem of a dessert. Rasgullas are happiness dipped in sugar syrup!! White spongy balls of cottage cheese immersed into sugar syrup to perfection is a taste to behold forever in your hearts. A mouthful of rasgulla is a heart full of pleasure. Do not miss out on this amazing dessert for a memorable Raksha Bandhan.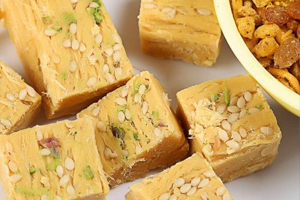 Patisa is a dessert which is widely popular in north India. Madeup entirely of sugar, this dessert has a very flaky texture and its golden yellow color makes it picturesque. The process of its formation is as fascinating as its taste. Patisa is also known as soan papdi in other parts of the country. Raksha Bandan, family get together and some flay patisa…your festival is definitely sorted!!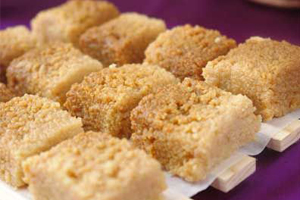 This is a complete indigenous dessert conceived and produced only in India. The firangi touch to its name might confuse people and they might consider it to be a cake made with milk, but milk cake is even a distant cousin to any cake. It is a super yummy Indian dessert which is made by cooking milk and sugar over and over till it turns golden in color and gooey in texture. This is a marvelous dessert which can instantly satiate your sugar cravings. Milk cake on Raksha Bandhan is a match made in heaven!!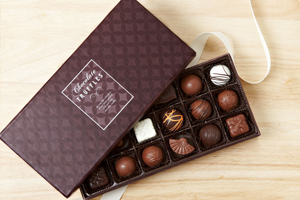 Last but not the least, Raksha Bandhan is incomplete without some chocolate binge. For many, Raksha-Bandhan is synonymous with chocolates. Brothers pamper their sisters by gifting them chocolates. No wonder chocolate making companies make such high profits during this time of the year. Raksha-Bandhan without chocolates is no Raksha Bandhan!! Be a good sibling and do not forget to carry your brother's/ sister's favorite chocolates!! 
Sweets and Indian festivals are together like Karan – Arjun, the later is incomplete without the former. We Indians express our love not in words and gifts but in Calories!! Yes, more the calories, greater the love. So, don't shy away from expressing your love to your siblings this Raksha-Bandhan, feed them lots of these delish sweets and celebrate eternal love of siblings. 
Order your sweets and more delicious food online at a click with Veg Platter. Download the app now: www.vegplatter.in/app
We found the following Restaurants.